Biden's State of the Union address 2022: Full coverage and highlights
34 min read
GOP Reps. Greene, Boebert heckle Biden throughout address
Reps. Marjorie Taylor Greene, R-Ga., and Lauren Boebert, R-Colo., repeatedly interrupted and interjected during Biden's address.
Greene was heard grumbling through the entire part of Biden's speech about Covid policy before she shouted a remark about women's sports when Biden mentioned new laws targeting transgender Americans and their families.
Both Boebert and Greene tried to start a "build the wall" chant — a reference to former President Donald Trump's calls to construct a wall across the U.S. southern border — when Biden referred to securing the border and reforming immigration law.
But the moment that stood out most was when Boebert shouted "13 of them" — referring to the 13 U.S. service members who died in an attack in Afghanistan during the U.S. withdrawal last year — when Biden discussed battlefield conditions that may contribute to veterans' developing cancers "that would put them in a flag-draped coffin."
Boebert's remark came just before Biden mentioned that one such veteran was his son Beau Biden, who served in Iraq and died of brain cancer in 2015. Her remark prompted some boos from fellow lawmakers.
Read the full story here.
Tlaib hits 'corporate-backed' Democrats in response to Biden
Rep. Rashida Tlaib, D-Mich., delivered a response to Biden's address in which she said her fellow progressives were the true fighters for the president's agenda, while Republicans and "corporate-backed" Democrats are to blame for it's being stymied.
"No one — no one — fought harder for President Biden's agenda than progressives," she said before criticizing Republicans "and just enough corporate-backed Democratic obstructionists."
Some Democrats were critical of Tlaib, a member of the left-wing "squad," for delivering a response to Biden's address. She wasn't the only Democrat to issue such a follow-up speech — something that typically is limited to members of the opposing party.
Biden speech brings brief moment of unity to the Capitol
It didn't last long, but there was a fleeting moment of bipartisan unity in the Capitol as Biden used his State of the Union address to excoriate Russian President Vladimir Putin and rally the nation in support for war-torn Ukraine.
Awash in blue and gold scarves, dresses, ribbons and ties — a nod to the colors of Ukraine's national flag — Democrats and Republicans lawmakers pressed pause on their usual partisan warfare and briefly came together to show solidarity with a European ally facing unfathomable death and destruction at the hands of Putin.
Symbols of America's support for Ukraine were everywhere. Ukrainian flags were hung along Pennsylvania Avenue as Biden's motorcade made the short drive from the White House to Capitol Hill. As she entered the House chamber, first lady Jill Biden warmly embraced Ukraine's ambassador to the U.S., Oksana Markarova, who later got a standing ovation from lawmakers.
And Rep. Victoria Spartz, R-Ind., the first Ukrainian-born member of Congress, was selected to help escort Biden into the room and sat directly behind the top two House GOP leaders, Kevin McCarthy and Steve Scalise. 
Read the full story here.
5 takeaways from Biden's State of the Union speech
Biden delivered his State of the Union speech at a perilous time for the U.S. and for his presidency, facing low approval ratings as his party braces for a tough midterm election this fall.
He sought to strike a tricky balance between touting his successes on Covid and the economy while emphasizing the pain many Americans are still feeling because of rising costs and anxieties that Russia's war against Ukraine could spiral into a larger global conflict.
He also made a plea for Congress to pass his stalled domestic plans.
"The State of the Union is strong because you, the American people, are strong," Biden said. "We are stronger today than we were a year ago. And we'll be stronger a year from now than we are today. This is our moment to meet and overcome the challenges of our time."
Here are key takeaways from his address.
Congressional parents of transgender children express support for Equality Act
After Biden called for passage of the Equality Act, condemning state laws targeting transgender Americans, members of Congress with transgender children affirmed their support and advocated for the federal legislation. 
Reps. Pramila Jayapal, D-Wash., and Marie Newman, D-Ill., both took to Twitter to respond to Biden's speech, in which he said he would continue to support and advocate for the transgender community during his time as president. 
Newman pointed to the discrimination transgender Americans face on a daily basis as reason to pass the Equality Act. Jayapal expressed her gratitude for Biden's mention of the transgender community and called for the end of the filibuster to pass the legislation.
Biden's remarks also come on the day of the primary elections in Texas — a state whose attorney general declared last week that transition care for minors is child abuse under state law. Soon after, Gov. Greg Abbott called on licensed professionals and Texas residents to report parents of transgender minors to the state if their children may be receiving gender-affirming care. Both officials are up for re-election this year.
The message behind Biden's maskless mingling
From the moment he began his address, Biden tried to mark how far the country had come on Covid by noting that the pandemic prevented a proper gathering last year. But the true distinction between then and now was what Biden wasn't doing — wearing a mask as he walked through the crowd. 
After a protracted period of careful masking and social distancing, Biden, 79, gave America its first glimpse of what the administration hopes is the next phase of the pandemic. That phase, as Biden highlighted in his speech, includes keeping schools and businesses open.  
There was perhaps no better personification of that sentiment than the images of the ever-cautious Biden now walking up close to dozens and dozens of people, mingling, shaking hands and hugging. It spoke not only to the possibilities in a new maskless world but also to the freedoms that could come with higher vaccination rates. (We'll note that the White House tried moving toward no masks a year ago, only to have to reverse course after the delta variant took hold.) Those attending the speech were required to test for Covid ahead of time. 
But Biden's move also drew scoffs from Republicans who accused the administration of political motivations in reversing a mask order Friday — just in time for his big speech. 
"Biden walked into the #SOTU2022 with no mask but walks across the lawn with a mask?" Donald Trump Jr. chided over Twitter.
Congresswoman calls on Biden to defund the police
Biden's call to fund the police rather than defund them drew support from members of the Republican Party, such as Reps. Kevin McCarthy of California and Lauren Boebert of Colorado, but it drew criticism from some Democrats. After his speech, Rep. Cori Bush of Missouri, tweeted: "With all due respect, Mr. President. You didn't mention saving Black lives once in this speech."
She said all America has done is give more funding to police. "The result? 2021 set a record for fatal police shootings. Defund the police. Invest in our communities."
Bush wore a red top to Biden's first State of the Union address that said "18,000," which she said in a separate tweet signified the number of people whose clemency petitions are sitting in a backlog, waiting for Biden to review them.
Sherrilyn Ifill, the president of the NAACP Legal Defense and Educational Fund, questioned whether "the answer" to current public safety challenges is to "fund the police" as Biden claimed. She also questioned whether areas with the highest-funded police departments have the lowest crime rates and are more effective at solving violent crimes. 
"Do they have higher public confidence?" she tweeted. "This is political framing not 'answers.'"
Ifill said she would have preferred that Biden use the State of the Union "platform to encourage Americans to embrace the complexity of public safety challenges, lift up community innovations, recommit to accountability, & commit to working w/communities & public safety professionals on solutions."
Fact check: Reynolds says Pelosi warned Olympians against criticizing China
During the GOP response to Biden's address, Iowa Gov. Kim Reynolds said, "The Speaker of the House recently warned our Olympic athletes not to speak out against China."
Reynolds was referring to comments House Speaker Nancy Pelosi, D-Calif., made in early February, when she urged athletes to avoid protesting the Chinese government during the Beijing Winter Olympics for fear of reprisal.
"I would say to our athletes you're there to compete. Do not risk incurring the anger of the Chinese government, because they are ruthless," Pelosi said.
Fact check: Reynolds says Harris and Biden have not visited the border since taking office
"And we've actually gone to the border — something that our president and vice president have yet to do since taking office," Reynolds said in the Republican response to Biden's speech.
The Iowa governor was half right.
Vice President Kamala Harris visited the border last summer, but Biden has not made a similar trip since he became president.
Some of the bills Biden pushed for in his SOTU are doomed
Toward the end of his State of the Union speech, President Joe Biden called on Congress to pass a number of legislative proposals even though they have no realistic chance of making it to his desk this year.
They include a path to citizenship for young undocumented "Dreamers," a minimum wage increase, gender wage gap legislation dubbed the Paycheck Fairness Act, and expanded background checks for gun transfers. All of them are likely doomed in large part due to the Senate's 60-vote threshold, which Democrats recently tried and failed to change.
These proposals have passed the House in some form. Some, like a wage hike to $15 per hour, lack majority support in the Senate and would likely need to be narrowed to win 50 votes in the evenly split chamber. But none have a realistic chance of winning 60 votes.
Biden to talk 'Building a Better America' in Wisconsin
Fresh off the heels of his first State of the Union address, Biden is scheduled to hit the road Wednesday.
The president and the first lady will travel to Superior, Wisconsin, where they are scheduled to speak about "Building a Better America and how the bipartisan infrastructure law delivers for the American people by rebuilding roads and bridges and creating good-paying, union jobs," according to the White House.
"Building a Better America" is the new slogan Biden is using to describe his "Build Back Better" agenda.
Iowa Gov. Kim Reynolds delivers GOP response to Biden's address
Kim Reynolds, Iowa's GOP governor, delivered the Republican response to Biden's address, blasting him over increasing crime, inflation and education policy while praising Republican leadership at the state level.
"The soul of America isn't about who lives in the White House," she said. "It's men and women like you … who are willing to step up and take responsibility for your communities, for your neighbors and ultimately for yourself."
Fact check: Biden says gun-makers work in only industry that 'can't be sued'
Biden called on Congress to "repeal the liability shield that makes gun manufacturers the only industry in America that can't be sued, the only one."
Federal law gives gun manufacturers unique protections from many lawsuits, but it does not make them completely immune from liability.
The Protection of Lawful Commerce in Arms Act, passed by Congress in 2005, shields gun-makers from many suits. However, it lists six instances in which lawsuits are permitted, including when defective products or sales practices violate the law.
The families of nine victims of the massacre at Sandy Hook Elementary School in Connecticut in 2012 used one of those exceptions to sue Remington, arguing that the gun-maker improperly marketed the weapon to at-risk young men with video game product placement. The Supreme Court allowed the suit to proceed in 2019, and Remington settled with the families for $73 million last month.
While such types of industry-specific protections are rare, at least one other sector has similar protections. Vaccine makers have enjoyed a special legal status in the past, and the federal government recently gave companies immunity from any unintentional issues tied to their Covid vaccines, including Pfizer and Moderna.
Reps. Boebert, Greene heckle Biden throughout speech
A handful of GOP lawmakers kept up something of a running commentary throughout the speech, at times audible from the gallery. 
Reps. Lauren Boebert, R-Colo., and Marjorie Taylor Greene, R-Ga., were the loudest. Boebert shouted, "That's right!" when Biden spoke of funding the police. Greene, who has racked up more than $88,000 in mask-related fines in the House, grumbled through the entire section on Covid and yelled something about women's sports during the mention of transgender youth. When Biden mentioned immigration, both congresswomen tried to start a "build the wall" chant.
Then, when Biden was talking about soldiers, leading into a tribute to his late son, Beau, Boebert yelled "13 of them!" (likely a reference to the U.S. service members who died in the Abbey Gate attack in Afghanistan last year).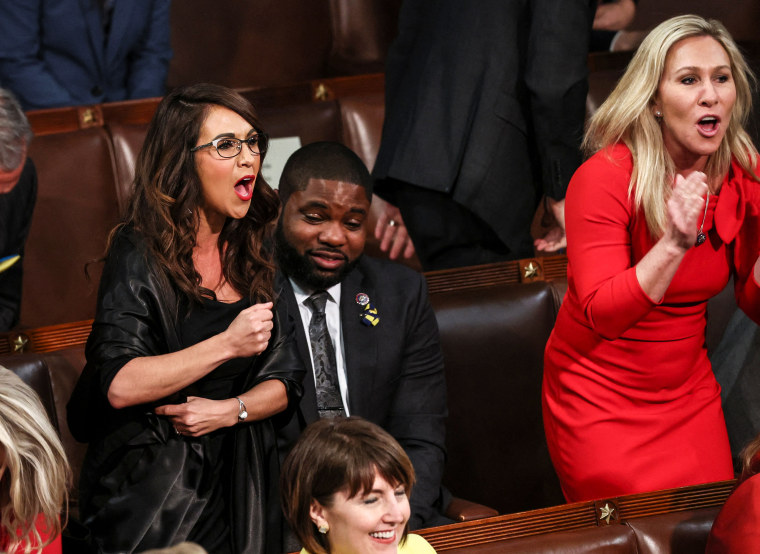 Biden uses address to try to counter key Republican attacks on him
Whether on the border, crime or Covid, Biden took the opportunity of his nationally televised address to try to convince Americans that his position on certain hot-button issues isn't quite how Republicans have portrayed him.
It was on those points that Biden delivered some of his more memorable lines of the night, including: "We should all agree: The answer is not to defund the police. The answer is to fund the police. Fund them. Fund them." He got a chorus of bipartisan cheers.
He also called to "secure the border and fix the immigration system," which led a small number of Republicans, including Rep. Marjorie Taylor Greene of Georgia, to chant, "Build the wall."
And on Covid, Biden made an appeal to Americans who might be hesitant to return to a pre-2020 normal: It's safe to take off your mask and get back to your schools and offices.
"It's time for America to get back to work and fill our great downtowns again with people," Biden said. "People working from home can feel safe to begin to return to the office.
"Our schools are open. Let's keep it that way," he added. "Our kids need to be in school. And with 75 percent of adult Americans fully vaccinated and hospitalizations down by 77 percent, most Americans can remove their masks, return to work, stay in the classroom and move forward safely. We achieved this because we provided free vaccines, treatments, tests and masks."
Republicans have made the increase in crime, and calls from some progressives to curb police spending, the centerpieces of the midterm messaging campaign, as well as an influx of migrants crossing the southern border and pandemic school policy.
Manchin, Romney sit together 'as a show of solidarity'
Sen. Joe Manchin, D-W.Va., sat on the Republican side of the aisle during Biden's speech Tuesday. His spokesperson told NBC News: "Senator Manchin sat with his colleague Senator Romney to remind the American people and the world that bipartisanship works and is alive and well in the U.S. Senate."
Sen. Mitt Romney, R-Utah, told NBC News: "Just as a show of solidarity between the two parties, bipartisanship, we worked together extensively over the last couple of years and plan on keeping it up."
Biden's immigration shoutout
The president called for a pathway to citizenship for Dreamers and touted border enforcement as he addressed one of the more politically precarious issues he faces. 
Biden's remarks come as immigration rights groups have pushed the administration to elevate the issue and pass reforms now that Democrats hold majorities — albeit slim — in the House and Senate. 
Biden boasted of technology, "like cutting-edge scanners to better detect drug smuggling," and collaborating with Mexico and Guatemala to crack down on human traffickers.  
But he also talked about smoothing out bureaucracy by dedicating immigration judges for asylum seekers so that families fleeing persecution and violence can have their cases heard faster. That comment comes in the wake of the administration's attempt to reverse former President Trump's "Remain in Mexico" policy. That effort toward a reversal has been stymied by courts and is now a matter before the Supreme Court. 
Fact check: Biden highlights record job gains, fastest growth in almost 40 years
"Our economy created over 6.5 million new jobs just last year, more jobs in one year than ever before in the history of the United States of America. The economy grew at a rate of 5.7 [percent] last year, the strongest growth in nearly 40 years," Biden said.
U.S. employers added 6.6 million jobs in Biden's first full year, according to the Bureau of Labor Statistics. That's the biggest one-year gain since the government started collecting employment data in 1939. But the surge came on the heels of historic job losses during the initial months of the coronavirus pandemic, as small businesses shuttered and employers were forced to lay off employees because of Covid restrictions.
The nation's gross domestic product surged last year, as well, with 5.7 percent growth, the most since 1984. As with employment, the economy struggled significantly early in the pandemic before it rebounded significantly.
Biden seeks bipartisan backing on four main issues
Biden sought support from Republicans and Democrats on a variety of issues, including the opioid epidemic, mental health, veterans support and ending cancer. 
"So tonight I'm offering a unity agenda for the nation, four big things we can do together," he said. 
Biden pushed to beat the opioid epidemic and to take on mental health issues, especially among children, "whose lives and education have been turned upside down." 
Biden added that he is committed to helping veterans and providing assistance with job training and housing, as well as helping lower-income vets get Department of Veterans Affairs care debt-free. 
"I'm also calling on Congress: Pass a law to make sure veterans devastated by toxic exposures in Iraq and Afghanistan finally get the benefits and comprehensive health care they deserve," he said. 
Biden also said his goal is to cut the cancer death rate by at least 50 percent over the next 25 years and to turn more cancers from death sentences into treatable diseases.
"A unity agenda for the nation," he said. "We can do this."   
What to expect from Gov. Kim Reynolds' response
Iowa's Kim Reynolds, a two-term governor and grandmother of 11, will make the biggest speech of her political career when she delivers the official Republican response to Biden's address — and it's all about contrast. She's expected to highlight the difference between the Biden administration's response to the pandemic and the economy as compared to that of GOP-led states like hers. 
Watch for Reynolds to lay out how Iowa resisted Covid-related lockdowns in the initial days of the pandemic and was among the first to move to reopen, according to a person familiar with her remarks. Iowa was one of the first states to get kids back in classrooms in person a year ago, and parents' rights will be part of tonight's theme; one source described her as in the "center of the zeitgeist" on that front.
She's also expected go after the president's record on the economy and inflation, and could point to a new tax reform law she just signed that implements a 3.9 percent flat tax in Iowa.
Reynolds is expected to nod to foreign policy and to other issues salient to conservatives, like the southern border wall, but thematically this is about drawing a distinction between the Biden administration federally and the work of conservative leaders on the state level. She's expected to promote the work of Republican governors as a group being ahead of the curve on economic and pandemic-related measures.  
She's a popular figure among Republicans in Iowa, and insiders in the state have been eager to point out that her approval ratings are in the high 80s. She's also remained on friendly terms with former President Donald Trump, who won the state in 2020. 
Biden called on the nation to stop politicizing Covid
After laying out a four-point plan for how to tackle Covid moving forward, Biden concluded with a plea for both parties to work together to contain the virus and reopen businesses and schools. 
"Let's use this moment to reset. Let's stop looking at Covid-19 as a partisan dividing line and see it for what it is: a God-awful disease," Biden said.  "Let's stop seeing each other as enemies, and start seeing each other for who we really are: fellow Americans."  
"We can't change how divided we've been, but we can change how we move forward — on Covid-19 and other issues we must face together," he said.
Republicans chant 'build the wall' when Biden mentions the border
A small number of Republicans could be heard chanting "build the wall" when Biden spoke about immigration.
The shouts came as Biden said: "And if we are to advance liberty and justice, we need to secure the border and fix the immigration system." 
"We can do both," he continued. "At our border, we've installed new technology like cutting-edge scanners to better detect drug smuggling."  
Biden makes the case for Judge Jackson
Biden dedicated a few minutes to re-introduce his Supreme Court nominee, Judge Ketanji Brown Jackson.
He described Jackson as a "consensus builder" and one of the country's "top legal minds" and said she would "continue Justice Breyer's legacy of excellence."
Biden said that since he announced her nomination, Jackson has "received a broad range of support — from the Fraternal Order of Police to former judges appointed by Democrats and Republicans."
Biden says right to vote is 'under assault'
Biden called on the Senate to pass a package of voting rights bills. 
"The most fundamental right in America is the right to vote — and to have it counted. And it's under assault," he said. "In state after state, new laws have been passed not only to suppress the vote, but to subvert entire elections."
He urged the Senate to pass the bills, dubbed the Freedom to Vote Act, the John Lewis Voting Rights Advancement Act and the Disclose Act, "so Americans can know who is funding our elections."  
Biden remarks end his remarks with a rallying cry: 'Go get 'em'
Biden concluded his roughly hourlong speech with a unscripted message for Americans: "Go get 'em."
Biden: 'The answer is not to defund the police. It's to fund the police'
Biden, who met with New York Mayor Eric Adams last month after the killing of two on-duty police officers, reiterated a message he made when he spoke at New York City police headquarters last month: "The answer is not to defund the police. It's to fund the police." That got some Republicans to their feet.
Biden pays tribute to Breyer
Biden paid tribute to Justice Stephen Breyer, who announced his retirement this year and was in the audience.
"Tonight, I'd like to honor someone who has dedicated his life to serve this country: Justice Stephen Breyer — an Army veteran, constitutional scholar and retiring justice of the United States Supreme Court. Justice Breyer, thank you for your service," he said.
Fact check: Biden says Russia's economy is 'reeling'
"The ruble has already lost 30 percent of its value. The Russian stock market has lost 40 percent of its value, and trading remains suspended. The Russian economy is reeling, and Putin alone is to blame," Biden said.
The ruble fell by 30 percent after allied countries limited access by some Russian banks to SWIFT, the service that facilitates global transactions among thousands of financial institutions. On Monday, Russia's central bank more than doubled a key interest rate to 20 percent in an attempt to rescue its currency.
The 40 percent decline in Russia's main stock market index, however, began in mid-February. Trading was recently suspended to stave off further losses.
Biden addresses Covid-19 — for about 8 minutes
Biden pivoted to the pandemic, becoming the second-most talked about topic during tonight's speech so far.
Biden: It's time to get back to the office
Biden called on Americans to "get back to work" and make downtowns great again.
"It's time for America to get back to work and fill our great downtowns again with people," he said. "People working from home can feel safe to begin to return to the office."   
"We're doing that here in the federal government," he said. "The vast majority of federal workers will once again work in person." 
Biden goes off script to ask Republicans to confirm his Fed nominees
Biden briefly went off-script to make a request of Republicans: Please confirm my nominees to the Federal Reserve Board.
Republicans in the Senate blocked a committee vote last month to advance the nominations, including of Jerome Powell for a second term as Fed chair and Lael Brainard as vice chair.
But the holdup primarily targets Sarah Bloom Raskin, Biden's nominee to be vice chair for supervision. Republicans say she has given incomplete answers about whether she used her government contacts from her time in top posts at the Fed and the Treasury Department during the Obama administration to aid Reserve Trust, a private Colorado payments firm.
Biden: DOJ to name watchdog to handle pandemic fraud
Biden says the Justice Department will be naming a chief prosecutor to handle pandemic relief funds. 
"We're going after the criminals who stole billions in relief money for small businesses and millions of Americans," said Biden. 
Biden knocked the Trump administration, who he said "undermined the watchdogs whose job it was to keep pandemic relief funds from being wasted." Trump fired or replaced several career watchdogs, which critics said harmed accountability.
Don't call it 'Build Back Better'
Since his campaign for president, Joe Biden has called his massive economic and social safety net plans the "Build Back Better" agenda.
Meet "Building a Better America."
Ahead of Biden's speech, some congressional Democrats and White House officials had indicated that continuing to call his failed agenda by the same name wasn't a winning strategy.
But that doesn't mean the ideas in "Build Back Better" are going away. 
"Building a Better America" appears to include a lot of the same policy proposals, such as cutting the cost of prescription drugs, energy bills and child care, addressing affordable housing and providing universal pre-K.
Biden said the plans would address long-term inflation and committed that no one making under $400,000 a year would pay any additional taxes.
Sound familiar? 
Biden's cure for inflation: Make it in the USA
Biden offered a simple solution to one of the more radioactive issues facing his administration: fix inflation by making things in America. 
"Lower your costs, not your wages," Biden said. "That means make more cars and semiconductors in America." 
Biden argued that companies can manufacture products cheaper and faster by not relying on foreign supply chains. 
Audience boos when Biden talks about corporate tax rate
Boos broke out when Biden spoke about the corporate tax rate.
"Just last year, 55 Fortune 500 corporations earned $40 billion in profits and paid zero dollars in federal income tax," he said.
Biden gives shoutout to 13-year-old with diabetes in audience
Biden gave a shoutout to Joshua Davis, a 13-year-old boy with diabetes who was a guest of the first lady at the State of the Union.
The president referred to Joshua in a segment of his speech about lowering the cost of insulin.
"He and his dad both have Type 1 diabetes, which means they need insulin every day," Biden said. "Insulin costs about $10 a vial to make. But drug companies charge families like Joshua and his dad up to 30 times more."
"I spoke with Joshua's mom. Imagine what it's like to look at your child who needs insulin and have no idea how you're going to pay for it," he continued. "What it does to your dignity, your ability to look your child in the eye, to be the parent you expect to be. Joshua is here with us tonight. Yesterday was his birthday — happy birthday, buddy. For Joshua, and for the 200,000 other young people with Type 1 diabetes, let's cap the cost of insulin at $35 a month so everyone can afford it."
Joshua smiled during the exchange. Earlier, cameras cut to him clapping.
Biden urges Congress to pass bipartisan tech and manufacturing bill to counter China
Biden touted legislation to promote U.S. technological innovation, urging Congress to pass the measure, which is aimed at ensuring the U.S. remains competitive with China and other countries. 
The measure "will make record investments in emerging technologies and American manufacturing," he said. 
Ukraine, infrastructure, inflation are top topics for Biden in first 30 minutes
Here's what Biden has covered the most in the first 30 minutes of his speech.
Biden takes shot at Trump tax cuts
Biden took a shot at former President Donald Trump, criticizing his 2017 tax cut legislation while praising the American Rescue Plan.
"And unlike the $2 trillion tax cut passed in the previous administration that benefitted the top 1 percent of Americans, the American Rescue Plan helped working people — and left no one behind."
Republicans in the chamber could be heard booing.
Biden celebrates bipartisan infrastructure bill
Biden said that, thanks to the bipartisan infrastructure bill, 65,000 miles of highway and 1,500 bridges will start to get fixed this year.
"We're done talking about infrastructure weeks," Biden said. "We're now talking about an infrastructure decade."
The bipartisan infrastructure bill was one of Biden's biggest legislative accomplishments during his first year in office. He had hoped to pass the bill in tandem with his Build Back Better agenda, but the latter was ultimately blocked by Republicans and some moderate Democrats.
Although some infrastructure projects will begin this year, infrastructure policy experts say it could take years for states to spend the money included in the bill, and that few projects will actually be completed in 2022.
Biden says U.S. to release 30 million barrels of oil from reserve
Biden said the U.S. plans to release 30 million barrels of oil from the Strategic Petroleum Reserve as part of a global effort to protect consumers and businesses from rising fuel prices as the U.S. and allies target Russia's economy.
The U.S. contribution is part of a larger effort with 30 other countries to release 60 million barrels of oil from reserves around the world, he said.
Biden added, "And we stand ready to do more if necessary, unified with our allies." 
Biden warns Russian oligarchs: We're coming for your assets
Biden announced the Justice Department is launching a task force to take aim at Russian oligarchs and their holdings.
"Tonight I say to the Russian oligarchs and corrupt leaders who have bilked billions of dollars off this violent regime: No more," he said, adding: "We are joining with our European allies to find and seize your yachts, your luxury apartments, your private jets. We are coming for your ill-begotten gains."
Biden's comments drew big cheers.
Ukrainian ambassador gets bipartisan ovation
Oksana Markarova, the Ukrainian ambassador to the U.S., got a lengthy standing ovation from both Democrats and Republicans early in Biden's address. Markarova is a guest of first lady Jill Biden.
"Let each of us here tonight in this chamber send an unmistakable signal to Ukraine and to the world," Biden said. "Please rise if you are able and show that, yes, we the United States of America stand with the Ukrainian people."
Biden opens speech talking about crisis in Ukraine
Biden opened his speech Tuesday with a forceful rebuke of the Russian invasion of Ukraine.
"To every Ukrainian — their fearlessness, their courage, their determination inspires the world," Biden said. "Groups of citizens blocking tanks with their bodies. Everyone — from students to retirees to teachers — turned soldiers defending their homeland."
Biden took direct aim at Russian President Vladimir Putin and said the U.S. would join European allies in banning Russian flights from U.S. airspace, pointing to the move as another example of the West's unifying against Putin.
"Putin is now isolated from the world more than he has ever been," Biden said.
TOPIC TRACKER: What is Biden covering during the State of the Union?
From rising inflation and the state of the economy to the pandemic and Russia's invasion of Ukraine, the president faces tough choices about what to include in Tuesday night's speech.
What will he address — and for how long? NBC News is tracking the topics of each of Biden's remarks as the night unfolds. Follow along in the graphic below and at this link as the night goes on.
Exxon to pull out of Russian pipeline, says it will make no new investments
Oil giant ExxonMobil said Tuesday that it will halt operations at a pipeline it has described as one of the single largest direct international investments in Russia.
In a statement, the company said it supports Ukrainians "as they seek to defend their freedom and determine their own future as a nation," adding, "We deplore Russia's military action that violates the territorial integrity of Ukraine and endangers its people."
The company said that it was beginning the "process to discontinue operations" at the Sakhalin-1 pipeline and that it is fully complying with sanctions. The statement added that ExxonMobil will not invest in new developments in the country.
ExxonMobil has operated the 143-mile pipeline, which spans the Tatar Strait in southeastern Russia, on behalf of a consortium of Japanese, Indian and Russian companies since the mid-2000s.  
The move follows an announcement Sunday by the British energy giant BP that it was offloading a nearly 20 percent stake in Rosneft, a Russia-controlled oil company. Earlier Tuesday, Shell also said it will exit all Russian operations, including a major liquified natural gas plant, according to Reuters.
Harris, Pelosi mark first State of the Union with two women behind dais
Biden's first State of the Union marks the first time a female vice president and a female speaker of the House stand behind a president on the dais. 
Vice President Kamala Harris and House Speaker Nancy Pelosi, D-Calif., are standing behind Biden.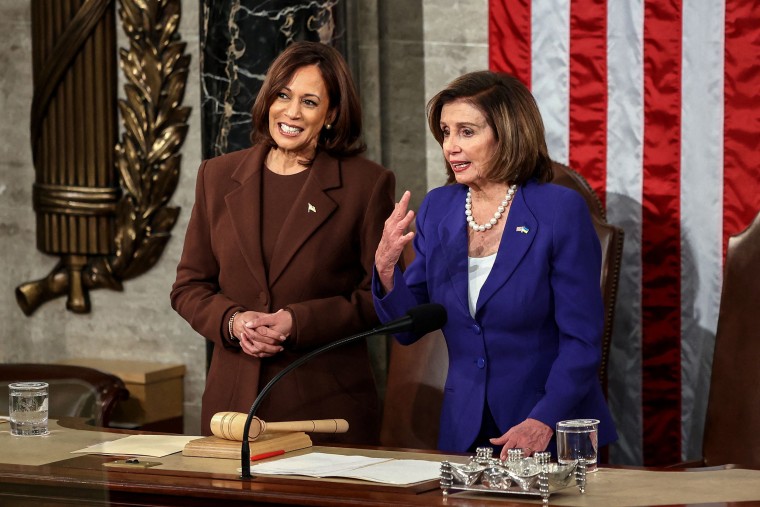 Biden enters House chamber to deliver State of the Union
Biden has entered the House chamber to deliver his first State of the Union. He is set to begin speaking any moment now.
Masks optional at Biden's State of the Union address
With Covid cases on the decline nationally, few members of Congress are masked at Biden's first State of the Union address, where mask-wearing is optional. Nationally, many jurisdictions have ditched mask mandates in recent weeks.
Tonight's designated survivor is …
Commerce Secretary Gina Raimondo.
At least one Cabinet member is chosen not to attend the State of the Union address each year. The custom is meant to preserve the constitutional line of succession should there be an attack on the Capitol. 
Raimondo was the governor of Rhode Island before she joined the Biden administration. 
Some members of Congress test positive for Covid ahead of Biden's address
Some members of Congress tested positive for Covid before Biden's State of the Union address. They are Reps. Suzan DelBene, D-Wash., Jamie Raskin, D-Md., Pete Aguilar, D-Calif., as well as Sen. Alex Padilla, D-Calif.
The four said they won't attend Biden's speech Tuesday night.
Lawmakers have just returned to Capitol Hill from a recess, so some have traveled more than usual. Masks are optional for those attending the president's address.
Facebook whistleblower Frances Haugen among Jill Biden's SOTU guests
Facebook whistleblower Frances Haugen is one of first lady Jill Biden's guests at the State of the Union speech, the White House announced in a statement.
Haugen, of Iowa City, is a former product manager on Facebook's civic misinformation team who leaked documents to The Wall Street Journal last year showing that the company's executives had been aware of negative impacts of its platforms on some young users. She testified before the Senate in October, saying that the social media giant's products "harm children, stoke division, weaken our democracy and much more."
Haugen also advocated for more transparency at the company. "As long as Facebook is operating in the dark, it is accountable to no one," she said at the time, prompting a spokesperson for Facebook to respond: "We don't agree with her characterization of the many issues she testified about." 
The White House described Haugen as "an advocate for more humanity and transparency across the tech and social media industry, especially as it relates to teen mental health." 
Biden to announce plans to target pandemic fraud during speech
President Joe Biden will outline his steps to tackle pandemic fraud during Tuesday's State of the Union address.
Among the initiatives he will announce are the appointment of a chief prosecutor at the Justice Department to focus on "the most egregious forms of pandemic fraud," according to a White House release. That includes identity theft.
Biden will also announce "heightened resources and enhanced penalties for egregious pandemic fraud" related to Paycheck Protection Program loans and unemployment insurance as well as an executive order on "preventing identity theft in public benefits programs," the release said.
Rep. Maloney wears traditional Ukrainian clothing ahead of address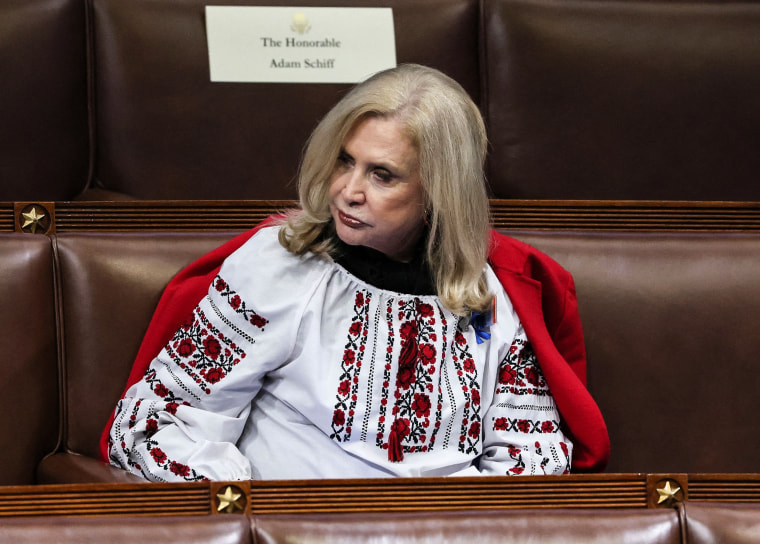 Rep. Carolyn Maloney wears traditional Ukrainian clothing as she sits in the House Chamber ahead of President Joe Biden's first State of the Union address at the U.S. Capitol on March 1, 2022.
William Shatner, host of show on Kremlin-backed network, says 'sympathy' with Ukraine
William Shatner, who hosts a talk show that has aired on the Kremlin-backed television channel RT America, said Tuesday that his "total sympathy is with Ukraine."
"I await with apprehension what will transpire but my total sympathy is with Ukraine," Shatner said in an email to NBC News. "They are the historic change in the world today and I look at them with great admiration and pray that they will emerge victorious."
Shatner's show, "I Don't Understand," is produced by Ora TV, a media company that licenses content to RT America, the U.S. arm of the Russian state-backed RT media operation.
"Ora TV sold the show to RT America," Shatner said in the email. "I had no say in the matter." (Deadline reported Tuesday that Ora TV "paused production" on shows it licenses to RT America. Shatner confirmed he was aware of that decision.)
In the wake of the Russian invasion of Ukraine, RT America personalities based in the U.S. have come under scrutiny for associating themselves with the Moscow-based RT network, which U.S. intelligence agencies have described as "Russia's state-run propaganda machine."
"I Don't Understand" debuted on RT America in July 2021. In an interview with NBC News that month, he described it as an "innocuous show about inquiry into arcane pieces of knowledge." In his email this week, he said the series was "totally, absolutely non-political."
In a tweet Tuesday night, Shatner put a finer point on it: "It's a distribution deal I have no control over. I don't do the show for RT; they take the finished show. As of right now all the episodes are filmed & delivered. Am I clear? Good."
"Saturday Night Live" alum and political commentator Dennis Miller, who also hosts an Ora-produced talk show that has aired on RT America, decided to stop making the series after the invasion, a source familiar with his thinking told NBC News on Monday.
What progressives want: Corporate villains
Progressives have long pressed Biden to identify his adversaries, and they believe he will use the State of the Union address to name corporate America as an inflation culprit.
"We expect a messaging win tonight as President Biden makes clear on the biggest stage of the year that corporate price-gouging is a central villain in the inflation story," Adam Green, a co-founder of the Progressive Change Campaign Committee, said in a statement Tuesday. "This is a win-win, good policy and essential politics, as Democrats play offense on the economy in 2022."
Like his overall approval ratings, Biden's numbers on the economy have been stuck in a ditch. A Harvard-Harris poll conducted late last month found that two-thirds of registered voters disapprove of his handling of the economy, while one-third approve. The survey was more bleak for Biden than most, but his average in recent polls, according to RealClearPolitics, is 37 percent approval and 59 percent disapproval.
That helps explain why progressives are eager for Biden to take a new tack.
House Republicans declare U.S. in 'crisis,' blame Biden ahead of speech
House Republicans declared that the U.S. is in crisis, blaming the Biden administration for a number of issues including higher inflation and violent crime rates during a weekly GOP briefing ahead of the president's State of the Union address.
"The United States and now the world have faced crisis after crisis," Rep. Elise Stafanik, R-N.Y., told reporters Tuesday. "President Biden will try to rewrite history of the past year and pass the buck instead of taking responsibility for the failures of his radical far-left Democrat agenda."
Stefanik, the No. 3 Republican in the House, also alleged that Biden "failed to engage in meaningful deterrence" in the months before Russia moved to attack Ukraine.
Rep. Victoria Spartz, R-Ind., the first Ukrainian-born member of Congress, urged the administration to do more to help Ukraine, noting that her 95-year-old grandmother was still in the country. "She's experienced Stalin, she experienced Hitler but says she never experience anything like this. Ever," she said.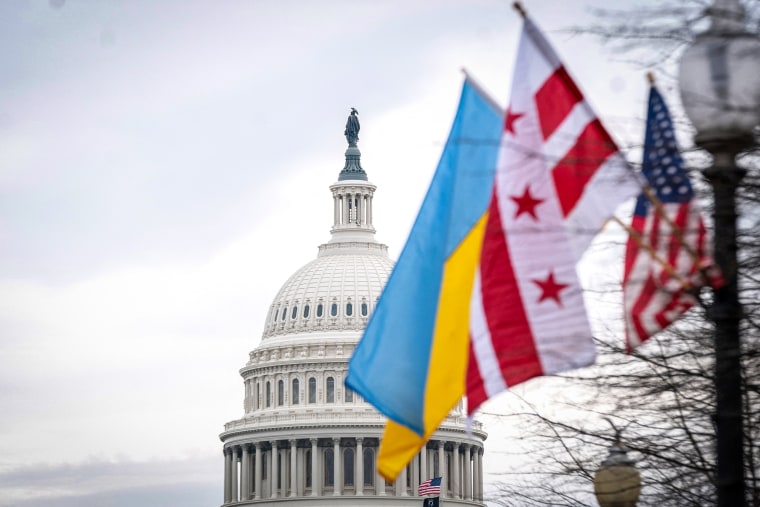 Biden to discuss plan to fight crime, curb gun violence
Biden will discuss his strategy to bolster the police and curb gun violence during his address Tuesday evening. 
In his address Biden will highlight his strategy, which focuses on two policies, "investing in crime prevention and helping cities and towns hire additional community police officers to walk the streets, get to know their neighbors, and restore trust and safety," said the White House in a fact sheet. 
Biden, during his speech, will also urge Congress to act on his $300 million budget request to more than double the Justice Dept.'s community policing grant program and to pass "commonsense" gun violence prevention legislation. 
"President Biden recognizes the important role that law enforcement plays in stopping the interstate flow of guns used in crimes and taking off our streets the small number of individuals responsible for a disproportionate amount of gun crimes," the White House added. 
Biden to announce U.S. will close its skies to Russian aircraft
The U.S. will close its skies to Russian aircraft, President Joe Biden will announce during his State of the Union address Tuesday night, according to a source familiar with the president's plans.
The announcement will come during an address that will focus heavily on the response by the U.S. and its allies against the Moscow's invasion of Ukraine.
The move to close U.S. airspace to Russian aircraft follows actions taken by the European Union earlier this week to do the same.
On Sunday, the E.U. banned all travel from Russian planes over its airspace in response to President Vladimir Putin's invasion of Ukraine. That ban applied to "any plane owned, chartered or otherwise controlled by a Russian legal or natural person" and included any aircraft privately owned by a Russian oligarch, officials said.
Read the full story here.
Biden will lay out plan to address the nation's mental health crisis
Biden will outline a plan to address the country's mental health crisis and call for large investments in the workforce to build capacity to meet mental health needs as part of his "unity agenda," a senior administration official said Tuesday ahead of his speech.
The president's upcoming budget request will include investment in programs that bring clinicians into health and substance use specialties, an expansion of community behavioral health and mental health centers as well as money for mental health resources in schools, the official continued.
The president, the official said, will also highlight the launch by the Department of Health and Human Services this summer of a hotline that would connect people to mental health services, and intends to call for measures to address social media's harm on young people's mental health including research to understand the extent of its impact as well as strengthening privacy and advertising protections.
Trump declines to criticize Putin directly as he slams U.S. leaders
In a 160-word statement issued Tuesday, former President Donald Trump blasted Democrats, Republicans and the news media for allegedly twisting his words on the Russian invasion of Ukraine. None of those words offered a direct criticism for Russian President Vladimir Putin.
"The RINOS [Republicans in name only], Warmongers and Fake News continue to blatantly lie and misrepresent my remarks on Putin because they know this is a terrible war being waged against Ukraine that would have never happened under my watch," Trump said, hours before President Joe Biden was slated to deliver a blistering attack on the Russian leader during Tuesday's State of the Union address.
"They did absolutely nothing as Putin declared much of Ukraine an 'independent territory,'" he continued. "There should be no war waging now in Ukraine, and it is terrible for humanity that Biden, NATO and the West have failed so terribly in allowing it to start."
A little more than a week ago, Trump called Putin a "genius." At the Conservative Political Action Committee conference in Orlando Saturday, where attendees were divided over the U.S. role in supporting Ukraine, he said the problem is less Putin's genius than that "our leaders are dumb — so dumb."In his statement Tuesday, Trump said western leaders "laid down the welcome mat and gave Russia the opening," adding that "now Putin may be getting everything he wanted, with Ukraine and the rest of the world suffering the consequences."
Biden to lay out four-point economic plan, emphasize deficit reduction
Biden will outline a four-part economic plan, White House aide David Kamin told Democratic congressional aides on a call Tuesday.
"The economic plan will have four big planks to it," Kamin said, according to a person who was on the call. "The first is making more things in America, strengthening our supply chain. Second is reducing the costs of everyday expenses working families face while reducing the deficit."
Kamin mentioned deficit reduction at least four times in his brief remarks, previewing Biden's argument that his spending plans are offset by proposals to tax wealthier people and corporations. 
"The third [plank] is promoting fair competition to lower prices, help small business thrive and protect consumers," Kamin said, according to the source. "The fourth is eliminating barriers to good-paying jobs for workers across the United States."
Biden to blast Putin, lay out plans to tackle inflation in State of the Union
President Joe Biden planned to attack Russian President Vladimir Putin for the "premeditated and unprovoked" Russian invasion of Ukraine and lay out plans to address the highest inflation in decades in his State of the Union address Tuesday night.
Following the sixth day of the Russian assault on Ukraine, Biden was to highlight the unity between the U.S. and its NATO allies in their response to Russia, saying Putin had underestimated the strength of the NATO alliance, according to prepared remarks released by the White House.
"Putin's war was premeditated and unprovoked. He rejected efforts at diplomacy. He thought the West and NATO wouldn't respond. And, he thought he could divide us here at home," Biden planned to say. "Putin was wrong. We were ready."
On the domestic front, Biden also planned to focus heavily on the economy and inflation, which is at its highest levels in decades and has been cited by voters as a top concern. 
Read the full story.